https://www.ultimate-guit..._Li5dilPvE
Tony Iommi Recalls 'Embarrassing' Moment of Ordering Madonna to Leave Black Sabbath Rehearsal Without Knowing Who She Was
"It was a bit of a disaster, really," the guitarist said.


During an appearance on SiriusXM, Black Sabbath guitarist Tony Iommi looked back on the band's 1985 reunion at the Live Aid.
The show saw Tony, singer Ozzy Osbourne, bassist Geezer Butler, and drummer Bill Ward, grace the stage for a three-song performance.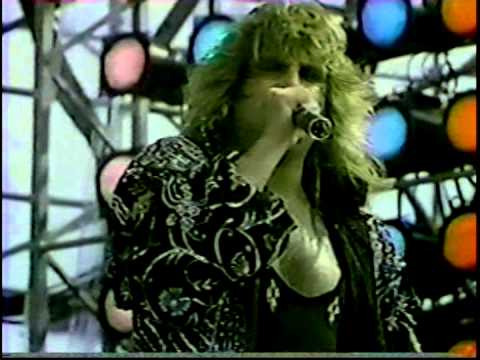 Looking back on the event's 35th anniversary, Tony now commented (transcribed by UG):
"It was great - it was great being with the guys again. It was a bit surreal, to be honest, because...

"Basically, I had been in the studio working, and it was an unusual thing for me to come from the studio, and then suddenly, here we are - in the next couple of days - on stage, in front of all the people.

"We'd never really done that before. We'd always sort-of rehearsed for a proper show for a while.

"But this was a quick rehearsal for an hour or whatever it was, and then the next day, of course, on stage. So it was a bit unnerving because you don't know how things are gonna go with the equipment and all this stuff.

"We hadn't been on stage together for so long. You have to sort of suck it and see what's gonna happen."
Remembering the rehearsal for the show, Iommi said:
"It was a bit of a disaster, really, to be honest. They had a room booked for us to rehearse. We started rehearsing and then we started talking about the old times; so most of the rehearsal was talking.

"And the time when we did rehearse, it was a closed session, and it would be embarrassing really because I saw these two girls come in at the back of the room.

"And I said to one of our crew, 'Look, there's people walking in,' you know, 'you better tell them to get out, this is a private rehearsal.'

"Anyway, he goes up and tells them and it turns out to be Madonna. So it's a bit embarrassing. But anyway, we had the rehearsal and then went back to the hotel."
Iommi added:
"On the night before the show, we went back to the hotel and of course, we all ended up in the bar, and that was another disaster because we had a bit too many to drink.

"And then the next day, of course, I had a dreadful hangover when we were on stage."
And on top of that, you guys performed in the middle of it. It was daylight and it was hot.
"Yeah. I mean, we didn't expect to be going on that early but, of course, we did. And it was - as I said, I didn't feel exactly on top of the world and I don't think any of us did.

"We sat in the bar with Judas Priest for ages because we hadn't seen them for a while and it was like, you know, everybody talking about the old times and all the things 'cause we're both from the same town."