Grace Jones has been many things during her years in the spotlight: dancehall queen, artistic muse, style icon, rebel, villainous Bond girl/henchwoman. She got her start on the runways in the 1970s, but soon Jones was on the cover of magazines, topping the U.S. dance charts with disco and R&B hits like "Pull Up to the Bumper" and "Slave to the Rhythm," and befriending and influencing major players in the art and fashion worlds. And though she once made headlines for her onstage antics and drug-fueled partying, her enduring legacy has been her commitment to individuality, her fierce personality, and her defiance of social mores.
Before she headlines Pride Island at New York City's Pride festival in June 2019, here are 12 facts you might not know about the woman The New York Times once called "a high priestess of the outré."
1. GRACE JONES'S AGE IS A BIT OF A MYSTERY.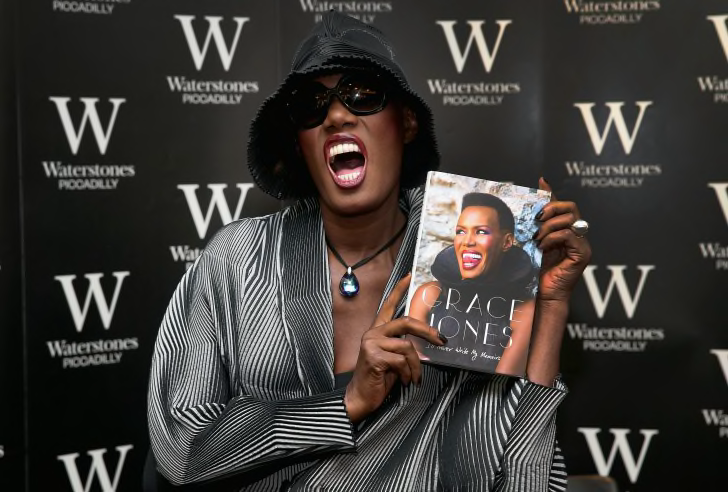 CHRIS JACKSON/GETTY IMAGES
Grace Beverly Jones was born in Spanish Town, Jamaica, on May 19. As for the year, 1948 is very popular on several websites, but Jones disagrees. "They say I'm a lot older than I actually am," Jones wrote in her 2015 autobiography, I'll Never Write My Memoirs. "In the press, on the internet, they add about four years to my actual age … I don't care at all. I like to keep the mystery."
2. GRACE JONES GREW UP IN A STRICT, RELIGIOUS HOUSEHOLD.
Grace's parents were both young and strict Pentecostals (her mother was the niece of a high-ranking bishop in the church). Before she turned 6, her parents immigrated to America to build a new home. According to Jones, they left their children in Jamaica because they "believed it was for the best," since children growing up in America weren't disciplined sternly enough. Instead, Grace and her four siblings were raised by her mother's mother "and her petty, brutal husband." Known as Mas P—short for Master P; his first name was Peart—her step-grandfather was a strict disciplinarian who regularly beat Jones and three of her siblings (a fourth sibling, her sister Pam, spent these years living with their great-grandmother).
Eventually, her parents sent for their children, and a 12-year-old Grace and her siblings joined them in New York (where her youngest brother was born). Although she was a shy and scared child, Jones became a rebellious and outspoken teenager whose behavior often clashed with her religious upbringing.
3. GRACE JONES WAS ONCE ROOMMATES WITH JESSICA LANGE AND JERRY HALL.
As a teenager, Jones began her career as a model and eventually got picked up by Wilhelmina Models. Eventually, she became frustrated by the lack of bookings and moved to Paris in 1970 to work with a brand new agency called Euro Planning. The first three models to join were Jones, Jerry Hall, and Jessica Lange. The three were roommates and fast friends, and Jones wrote that they continue to "help each other and inspire each other."
4. GRACE JONES DEFIED GENDER NORMS.
Jones is well known for embracing androgyny. Some of her most striking iconography has her hair in a flattop, her strong cheekbones and jawline sharply contoured, and her clothing tailored in the most angular way possible. "I like dressing like a guy. I love it," she told Interview magazine in 1984. "The future is no sex. You can be a boy, a girl, whatever you want."
5. GRACE JONES TURNED DOWN A ROLE IN BLADE RUNNER—AND IMMEDIATELY REGRETTED IT.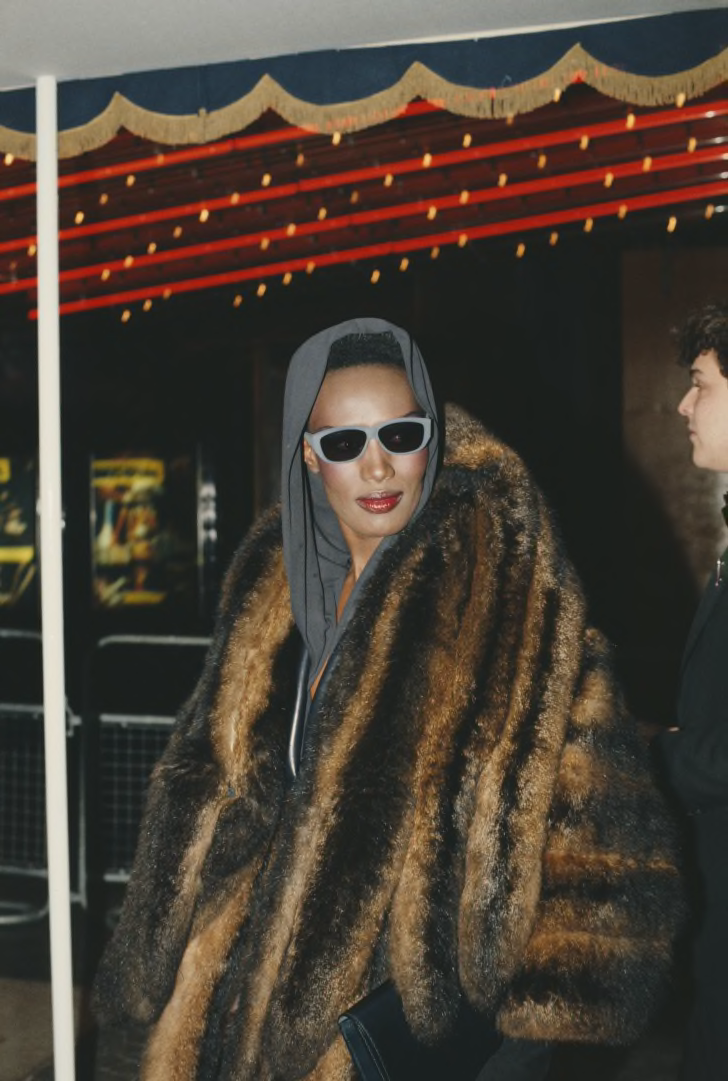 FOX PHOTOS/HULTON ARCHIVE/GETTY IMAGES
.
Jones caught the acting bug while attending Onondaga Community College in Syracuse, New York, where she was majoring in Spanish. After playing the role of "Stinkweed" in a 1968 avant-garde play written by a theater teacher she has called her first crush, Jones dropped out and bounced between Philadelphia and New York City while auditioning and piecing together work as a go-go dancer.
It was the beginning of an interesting career in film. She did a number of independent action and horror films, as well as starring in 1984's Conan the Destroyer alongside Arnold Schwarzenegger. Her most famous role was likely that of May Day in A View to a Kill (1985); Jones played a villainous assassin who seduced (then died saving) Roger Moore's James Bond.
.
Surprisingly, before those two blockbuster films, Jones turned down the role of the replicant Zhora in Blade Runner without reading the script. At the time, she was working with the photographer and art director Jean-Paul Goude, who, Jones recalled, thought the film would be "too commercial, and I would become too Hollywood. I would become a sellout." The night after she turned down the role, she was flying to Paris and read the script on the plane. She loved the concept and changed her mind. Unfortunately, by the time her flight landed and she could call the studio, actress Joanna Cassidy had already been cast.
read more here-- https://www.mentalfloss.c...ones-facts