crowdfunding: Little Rascals preservation & restoration project on DVD/Blu Ray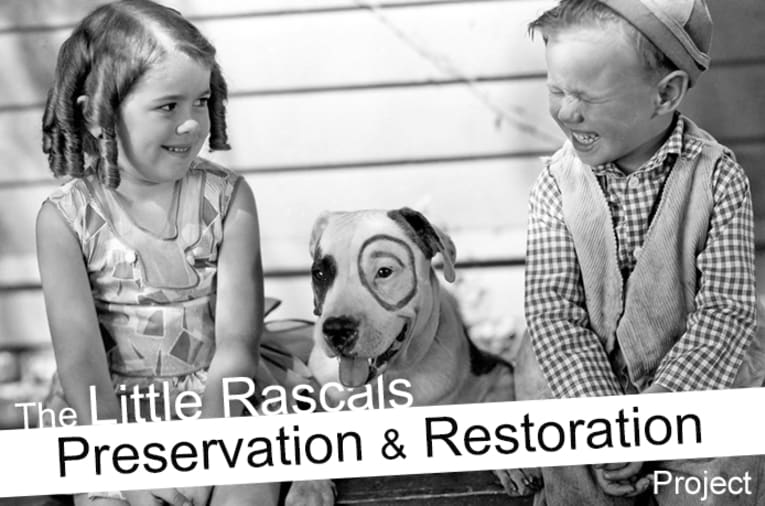 donate at Indiegogo
ClassicFlix
Youtube: restoration sample / David Kawas (president of ClassicFlix) interview about project

Beloved by millions of film fans of all ages, and from all over the world -- Our Gang (The Little Rascals) is truly special. So many of us grew up with them, we see ourselves in them and just watching them brings a smile to our face.

But as great as the Rascals are in terms of sheer entertainment, their presentations on home video or TV have always been subpar mainly due to the poor condition of the film elements, lack of access to the original film materials and primitive restoration technology. But now, that is about to change.

At ClassicFlix, we specialize in acquiring and restoring classic films and have licensed all 80 Hal Roach Little Rascal sound shorts for release on Blu-ray and DVD. When we're done, our restorations will be the final and definitive versions of these beloved and iconic shorts.

What has changed to make this possible?
The state of the film elements certainly hasn't changed, in fact, they have likely gotten a lot worse and are getting worse every day.

Unlike previous presentations (on home video or TV) we have access to the original nitrate film elements.

Restoration technology has come a long way since the DVD restorations were done over 10 years ago.

So jump on board and back this project today. Be a part of this rare and historic chance to preserve and restore these wonderful films for future generations to enjoy.

Goals and Perks
Our goal is to raise $70,000 in 30 days. Doing so, we'll be able to digitally preserve and restore the first 22 Little Rascal sound shorts.

All donations are welcome, but only those selecting a "perk" of $50 or more will be entitled to one (1) copy on Blu-ray or DVD of The Complete Little Rascals - The ClassicFlix Restorations, Volume 1 (U.S. only) which will contain the first 22 sound shorts: Small Talk to Dogs Is Dogs.

Donations $25 and up will have access to exclusive video sneak peeks of the preservation and restoration progress as well as additional updates and news about the campaign. Donations of $10 and under will receive updates and news via written text only.

Risks & Challenges
When dealing with film elements, especially those that are over 90 years old, there are always inherent risks. Sometimes it may be that a film can is mis-labeled, other times deterioration is so bad that the elements are unusable. Locating the best available Little Rascal film elements is within reach, but will be time consuming and laborious.

Access to film elements (because of the pandemic, especially if it comes back stronger this winter) could be hindered as storage facilities that house the film elements may close. But that would only delay the project, not end it.

Frequently Asked Questions
When is The Little Rascals - The ClassicFlix Restorations, Volume 1 expected to ship?
We hope to ship out Volume 1 by March of 2021. Any delays will be communicated via updates.

How many Little Rascal shorts will be included in Volume 1?
At least the first 22 Little Rascal sounds shorts. From Small Talk to Dogs Is Dogs.

Does my contribution entitle me to subsequent Little Rascal volumes?
No. Selecting a perk of $50 or more will only be entitled to receive the first volume on either Blu-ray or DVD.

Will every donation receive a copy of Volume 1 on Blu-ray or DVD?
No. Only those who select a "perk" of $50 or more will receive a copy of the set and only those within the U.S. are able to select it. Perk levels of $10 and $25 give contributors access to exclusive updates, but no physical copies of the release.

Will the set be shipped outside the United States?
No. Contributions are welcome from anywhere in the world by clicking the "Back It" button on the main page, but due to licensing restrictions and shipping logistics, Volume 1 will only be shipped to contributors within the United States. However, the release will eventually be accessible via all major retail outlets.

How much is shipping?
A flat $4.00 for USPS First-Class Mail (with delivery confirmation) for donations from $50 - $100. These backers may upgrade ("add-on") for an additional $5.00 to USPS Priority Mail (total $9.00). For backers of $250 or more, shipments will be automatically sent via USPS Priority Mail (with delivery confirmation) for a flat $13.00. Any lost shipments will be replaced at no charge to contributors.

Will there be any bonus features?
We're putting every penny we have into the restorations and don't plan on any. That could change should we go well over our funding goal.

When your restorations are complete, will the shorts look like film and not overly scrubbed to remove grain, etc.?
We have a superior track record when it comes to our restorations, and that includes not "scrubbing" them to remove grain or the natural look of film. And even though our restorations will be far superior to any previously released versions, there will be occasional noticeable dirt, scratches, splotches, etc. because the poor condition of the film elements makes it impossible to remove all such anomalies without "scrubbing" them during the restoration process.

Will these shorts be released at a later date to major retail outlets?
Yes, they will be. First at ClassicFlix.com, then elsewhere. But we are planning special packaging for the Blu-ray (and possibly the DVD) for contributors to this project that won't be available when the release goes wide retail.

Will the shorts have optional subtitles?
Yes. All the shorts will feature optional English subtitles.

Why is a crowdfund necessary?
Almost all of the original Rascal sources available are all on volatile nitrate film stock which is deteriorating as every day goes by. All of the original audio elements we've tested thus far are unusable, so the more funds we can raise up front, the sooner these iconic shorts can be preserved without the risk of losing the best film elements forever. Additionally, by raising the necessary funds, we're able to more thoroughly seek out the best sources available to preserve and restore.

Will there be a second and/or third campaign to finish the preservation and restoration of the remaining Rascal sound shorts?
That depends on how much over our goal we go on this campaign and how the first volume is received when it goes retail. The more we go over our funding goal on this campaign means the sooner we can get out the subsequent volumes. The initial plan is for three volumes containing all 80 sound shorts, but that could be reduced to two volumes if this campaign raises well over the goal.

What will the funds be used for?
To preserve and restore the first 22 sound Rascal shorts. The budget could easily be twice as much ($140,000) as the film elements are in truly horrible condition. In most cases, the elements themselves are on nitrate film stock, around 90-years-old and have never been well-cared for. We're setting a modest budget of around $3,000 per short, and because of the processes we have in place, as well as being a small business with low overhead, we can produce restoration value with superior results.

What are the film sources for the restorations?
All will be from original Hal Roach 35mm film elements. Image restoration will mostly be from original nitrate film sources (some original negatives too) which have previously been unavailable. Unfortunately, all of the nitrate sound elements we've tested thus far have been so badly deteriorated, that they are unusable. Sound will be restored, but most likely from current digital sources or 2nd or 3rd generation elements, if available.

What 15 previous ClassicFlix Releases are part of the $250 (Jackie) "perk" level?
A Night In Casablanca (1946) [12/15/20], Along Came Jones (1945), Casanova Brown (1944), Crime of Passion (1957), Down Three Dark Streets (1954), Five Steps to Danger (1957), He Walked by Night (1948) - Spec. Ed., The Killer Is Loose (1956), The Man Who Watched Trains Go By (1952), Merrily We Live (1938), Miss Annie Rooney (1942), Out of the Blue (1947), T-Men (1947) - Spec. Ed., Tomorrow Is Forever (1946) and Zenobia (1939) [11/24/20] . More on our releases can be found at ClassicFlix.com.

Will you eventually release the silent Rascal films?
We have licensed a good number of them plan to eventually release as many as we have access to and that survive. The timing depends on how fast we can move through the preservation and restoration of the sound shorts first.

Will the discs be region coded?
Yes, for North America.

Will the scans and/or restorations be done in 4K?
No. 4K scan and restoration work is a lot more costly than 2K. We will be scanning and restoring in 2K.
You can take a black guy to Nashville from right out of the cotton fields with bib overalls, and they will call him R&B. You can take a white guy in a pin-stripe suit who's never seen a cotton field, and they will call him country. ~ O. B. McClinton